How to Fix a Leaky Faucet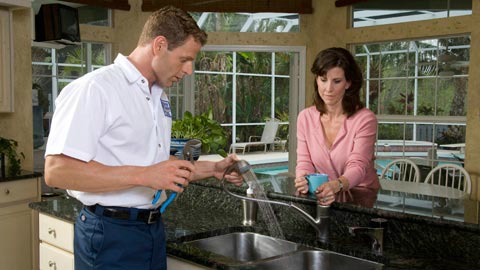 Are you tired of hearing your kitchen faucet drip? Before you call your local Temple City plumber, let us show you some DIY tricks that can fix a leaky faucet fast. Taking care of something small like a leaky faucet is always a good idea because if it isn't fixed it can lead to bigger plumbing problems down the road. These plumbing issues will certainly need the attention of a licensed plumber.
Clean the Aerator
A dirty aerator may be the reason your faucet is leaking. Sediment can buildup in this part of your faucet and cause dripping. You a wrench and remove the aerator. Gently wash it with soap and water then replace. Make sure you tighten the aerator completely to prevent any additional leaking.
Replace the Seal
This isn't a DIY job for every homeowner. Some people may be intimidated by this faucet repair and that's okay. If you are, pick up the phone and give My Temple City Plumber Hero a call. We'll get a pro out to your home within 90 minutes. Otherwise, grab your tool box, shut off the water supply and get to work switching out the rubber gasket that is inside the valve.
Buy a New Faucet
Sometimes you just need to wave the white flag and surrender. Buying a new faucet may be the better option if you have a faucet that is old and repairs don't make financial sense. Also, a new faucet can upgrade the look of your kitchen or bathroom. Of course, it's always best to opt for professional kitchen and bathroom faucet installation to ensure that everything works fine from the start.
Call a Licensed Plumber for Repairs
If all else fails and you're still having issues with a leaky faucet, give your local Temple City plumber a call. There may be another problem that needs to be addressed. My Temple City Plumber Hero has a team of pros who are available day or night, 24/7 to provide you with affordable solutions to help you fix that leaky faucet and more!